Youth Unemployment Challenges in Mining Areas of Ghana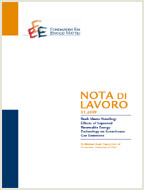 Autori
P. Sarfo-Mensah, M.K. Adjaloo, P. Donkor
Parole chiave:
Illegal Mining, Unemployment, AngloGold Ashanti, Social Vices, Agriculture, Mining Communities, Migration
Publisher
Economy and Society
Editor
Gianmarco I.P. Ottaviano
Ghana, like the rest of West Africa is experiencing tremendous human migration both internally and across international boundaries. Rural-urban migration has assumed uncontrollable dimensions in the sub-region and the social consequences have become major development challenge. In Ghana the mining communities have been at the receiving end for some time now. This study on the Obuasi Municipal Assembly (OMA) in the Ashanti region of Ghana explores the tremendous socioeconomic changes, especially demographic patterns as a result of the inflows of migrants into the Obuasi Township and its catchment area in search of non existing jobs especially in mining. A major outcome is the serious unemployment problem in the township with all the attendant social vices. A three-month socio-economic study of the municipality was carried out to determine the scope of unemployment. The study showed that there is acute unemployment situation in the municipality which is due to the fact that AngloGold Ashanti, a mining giant in Ghana, the major employer, has limited job openings especially for menial workers who flock to the company. Other income generating opportunities are few. Agriculture which has the capacity to employ majority of the unemployed youth does not appeal to them because it is considered not lucrative. The acute unemployment situation has contributed significantly to the high crime rate, prostitution and widespread illegal mining activities with their attendant problems. The study explores options that are feasible for a typical mining setting especially for the youth who are very vulnerable and susceptible to crime and other social vices.  Job creation, through the development and implementation of sustainable programmes aimed at training the youth to acquire the necessary employable skills is one of the options considered by the municipal managers and their partners. The study also looks at broader policy implications for the Economic Community of West African States (ECOWAS).