The Passive Use Value of the Mediterranean Forest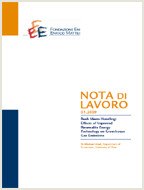 Autori
Vladimir Otrachshenko
Parole chiave:
Forest, Mediterranean Region, Passive Use, Welfare Loss
Publisher
Climate Change and Sustainable Development
In this study we estimate the passive use value of forest in different ecological zones in the Mediterranean region. We estimate these values for forests using meta-analysis. These estimates are used to reveal the annual monetary values per hectare for each country. The total annual amount of passive use value of the Mediterranean forest is about one billion international dollars. The estimated passive use value of the forest from this study can be used to account for the social welfare loss caused by fire, insects, diseases, biotic agents, and abiotic factors.
***
Suggested citation: Otrachshenko, V., (2014), 'The Passive Use Value of the Mediterranean Forest' , Nota di Lavoro 86.2014, Milan, Italy: Fondazione Eni Enrico Mattei