The Effect of Increased Transmission and Storage in an Interconnected Europe: an Application to France and Ireland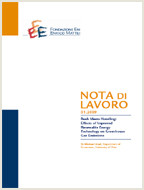 Autori
Valeria Di Cosmo (Fondazione Eni Enrico Mattei); Sean Collins (MaREI Centre Environmental Research Institute – University College Cork); Paul Deane (MaREI Centre Environmental Research Institute – University College Cork)
Parole chiave:
Interconnection, Renewable Generation, Storage
Publisher
Energy Scenarios and Policy
A longstanding goal of the European Union (EU) is to promote efficient trading between price zones via electricity interconnection to achieve a single electricity market between the EU countries. This paper uses a power system model (PLEXOS-EU) to simulate one vision of the 2030 EU electricity market based on European Commission studies to determine the effects of a new interconnector between France and the Single Electricity Market of Ireland and Northern Ireland (SEM). We use the same tool to understand the effects of investment in storage, and the effects of the interaction between storage and additional interconnection. Our results show that both investments in interconnection and storage reduce wholesale electricity prices in France and Ireland as well as reduce net revenues of thermal generators in most scenarios in both countries. However, France is only marginally affected by the new interconnector. Renewable generators see a modest increase in net revenues. The project has the potential for a positive impact on welfare in Ireland if costs are shared between countries and remain below 45 million €/year for the scenarios examined. The owners of the new interconnector between France and SEM see increased net revenues in the scenarios without storage. When storage is included in the system, the new interconnector becomes less profitable.
***
Suggested citation: Di Cosmo, V., (2017), 'The Effect of Increased Transmission and Storage in an Interconnected Europe: an Application to France and Ireland', Nota di Lavoro 37.2017, Milan, Italy: Fondazione Eni Enrico Mattei