Sovereign States and Surging Water: Brahmaputra River between China and India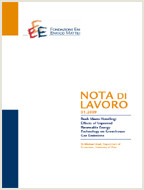 Autori
Sushanta Kumar Mahapatra (University of Bologna, Amrita University); Keshab Chandra Ratha (Sambalpur University)
Codice JEL
H79, L95, Q28, K33, N50, Q25
Parole chiave:
Water Governance, Trans-Boundary, River Dispute, India, China
Publisher
Climate Change and Sustainable Development
Brahmaputra river basin is one of the most vulnerable areas in the world subject to combined effects of glacier melt, extreme monsoon rainfall and sea level rise. Water is emerging as a new possible irritant between China and India. For India, Water of Brahmaputra constitutes a major lifeline for people of Tibet and North Eastern states. The building of dams and diversion projects in Tibet by China is a matter of grave concern for lower riparian states. For China, it is having hidden inclination to create employment potentials for more than millions of people by making Brahmaputra diversion project forward. The requirement of fresh water as the pollution grows and population rise has forced China to have the Tsangpo-Brahmaputra River project. The objective of this paper is to focus the reaction of both people on the water diversion issue, disastrous ecological consequences and the urgent necessity for having a water treaty between Asian giants. It also examines the hegemonic tendencies of China on Brahmaputra River & exercise of power for economic gains and outcomes. The policies China takes on trans- Boundary Rivers are not symptom of peaceful nature of its rise. In addition, it establishes the fact that sharing of information, ecosystem-friendly policies, thought and mutual understanding will dispel the suspicion and develop trust between two countries, creating an enabling environment for better management of Brahmaputra River.
***
Suggested citation: Kumar Mahapatra, S., K. Chandra Ratha, (2015), 'Sovereign States and Surging Water: Brahmaputra River between China and India', Nota di Lavoro 46.2015, Milan, Italy: Fondazione Eni Enrico Mattei.