Profit, Productivity, Price and Quality Performance Changes in the English and Welsh Water and Sewerage Companies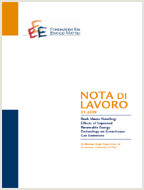 Autori
Alexandros Maziotis, David S. Saal, Emmanuel Thanassoulis
Parole chiave:
Profit Decomposition, Productivity, Price Performance, Quality Change, Panel Index Numbers, Regulation, Water and Sewerage Industry
Publisher
Climate Change and Sustainable Development
The purpose of this paper is the evaluation of various profit drivers such as price changes, productivity changes and quality levels on the financial performance of the Water and Sewerage Companies (WaSCs) over time in the case when the number of observations is limited. We thereby follow Maziotis, Saal and Thanassoulis (2012) approach and extend it by measuring the impact of exogenous factors such as drinking water and sewerage treatment quality on profitability, productivity and price performance measures. The results suggest that while quality improvements have significantly contributed to the productivity performance of the WaSCs, they have also contributed negatively to their price performance. Overall, after 2000 steady reductions in average price performance, gains in productivity and stable economic profitability were apparent. This trend indicates Ofwat's policy on passing productivity benefits to consumers, and sustaining stable profitability than it was in earlier regulatory periods. This technique is of great interest for both regulators and regulated companies to better identify the sources of profit variation and aid them in evaluating both the effectiveness of a regulatory price cap scheme and the performance of the regulated companies, when the sample size is extremely limited.