Potentials and Limits of Bayesian Networks to Deal with Uncertainty in the Assessment of Climate Change Adaptation Policies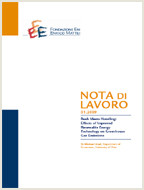 Autori
Michela Catenacci, Carlo Giupponi
Parole chiave:
Adaptation to Climate Change, Bayesian Network, Uncertainty
Publisher
Climate Change and Sustainable Development
Bayesian networks (BNs) have been increasingly applied to support management and decision-making processes under conditions of environmental variability and uncertainty, providing logical and holistic reasoning in complex systems since they succinctly and effectively translate causal assertions between variables into patterns of probabilistic dependence. Through a theoretical assessment of the features and the statistical rationale of BNs, and a review of specific applications to ecological modelling, natural resource management, and climate change policy issues, the present paper analyses the effectiveness of the BN model as a synthesis framework, which would allow the user to manage the uncertainty characterising the definition and implementation of climate change adaptation policies. The review will let emerge the potentials of the model to characterise, incorporate and communicate the uncertainty, with the aim to provide an efficient support to an informed and transparent decision making process. The possible drawbacks arising from the implementation of BNs are also analysed, providing potential solutions to overcome them.