Pathways to Deep Decarbonization in Italy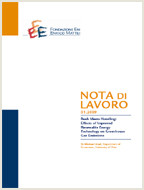 Autori
Maria Rosa Virdis (Studies and Strategy Unit – ENA); Maria Gaeta (Studies and Strategy Unit – ENA); Isabella Alloisio (Fondazione Eni Enrico Mattei, CMCC); Alessandro Antimiani (INEA); Simone Borghesi (University of Siena, Fondazione Eni Enrico Mattei); Enrica De Cian (Fondazione Eni Enrico Mattei, CMCC); Chiara Martini (Energy Efficiency Unit – ENEA); Ramiro Parrado (Fondazione Eni Enrico Mattei, CMCC); Maria Cristina Tommasino (Studies and Strategy Unit – ENEA); Elena Verdolini (Fondazione Eni Enrico Mattei, CMCC) 
Parole chiave:
Decarbonization, Low-carbon Economy, Climate Change
Publisher
Climate Change and Sustainable Development
The Deep Decarbonization Pathways Project (DDPP), an initiative of the Sustainable  Development Solutions Network (SDSN) and the Institute for Sustainable Development and International Relations (IDDRI), aims to demonstrate how countries can transform their energy systems by 2050 in order to achieve a low-carbon economy and significantly reduce the global risk of catastrophic climate change. Built upon a rigorous accounting of national circumstances, the DDPP defines transparent pathways supporting the decarbonization of energy systems while respecting the specifics of national political economy and the fulfillment of domestic development priorities. The project comprises 16 Country Research Teams, composed of leading research institutions from countries representing about 70% of global GHG emissions and at very different stages of development. These 16 countries are: Australia, Brazil, Canada, China, France, Germany, India, Indonesia, Italy, Japan, Mexico, Russia, South Africa, South Korea, the United Kingdom, and the United States. "Pathways to Deep Carbonization in Italy" contributes to the national debate on climate-change mitigation, and the importance of deep decarbonization, by examining three alternative pathways that could reduce Italian CO2 emissions by at least 40% in 2030 and 80% in 2050, compared to 1990. It analyzes the challenges the Italian energy system faces, and possible future technological developments that will need to be pursued.
***
Suggested citation: Virdis, M.R. et al. (2015). Pathways to deep decarbonization in Italy, SDSN – IDDRI.