On the timing of political regime changes: Theory and application to the Arab Spring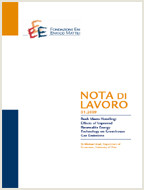 Autori
Raouf Boucekkine, Fabien Prieur, Klarizze Puzon
Parole chiave:
Political Transitions, Revolution, Natural Resources, Optimal Timing, Regime Switching, Dynamic Game
Publisher
Economy and Society
We develop a continuous time dynamic game to provide with a benchmark theory of Arab Spring-type events. We consider a resource-dependent economy with two interacting groups, the elite vs. the citizens, and two political regimes, dictatorship vs. a freer regime. Transition to the freer regime can only be achieved if citizens decide to revolt given the concession/repression policy of the elite. Departing from the related literature, the revolution optimal timing is an explicit control variable in the hands of citizens. The elite is the strategic leader: she ultimately chooses her policy knowing the reaction function of citizens. In this framework, we provide with a full equilibrium analysis of the political regime switching game and notably emphasize the role of the direct switching cost of the citizens and of the elite's self-preservation options. In particular, we show how the incorporation of explicit revolution timing may change the conventional wisdom in the related institutional change literature. Finally, we emphasize how the theory may help explaining some key features of the Arab Spring.
***
Suggested citation: Boucekkine, R., F. Prieur, K. Puzon, (2014), 'On the Timing of Political Regime Changes: Theory and Application to the Arab Spring', Nota di Lavoro 104.2014, Milan, Italy: Fondazione Eni Enrico Mattei.