On Sharing the Benefits of Communication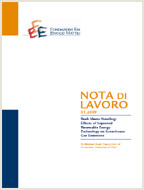 Autori
Efthymios Athanasiou, Santanu Dey, Giacomo Valletta
Parole chiave:
Groves Mechanisms, Externality, Budget Surplus or Deficit, Pareto Undominated
Publisher
Climate Change and Sustainable Development
We put forward a model of private goods with externalities. Agents derive benefit from communicating with each other. In order to communicate they need to have a language in common. Learning languages is costly. In this setting no individually rational and feasible Groves mechanism exists. We characterize the best-in-class feasible Groves mechanism and the best-in-class individually rational Groves mechanism.