Loss & Damage: a Critical Discourse Analysis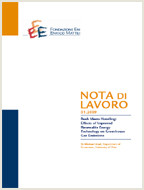 Parole chiave:
Loss and Damage, Limits and Constraints to Adaptation, State Responsibility, International Liability, Attribution, Climate Change Negotiations, Critical Discourse Analysis
Publisher
Climate Change and Sustainable Development
The years-long negotiations on an international mechanism for loss and damage (L&D) associated with climate change impacts got to a milestone during the nineteenth session of the UNFCCC Conference of the Parties (COP-19), held in Warsaw in November 2013. The COP established the Warsaw international mechanism, aiming to address L&D associated with the adverse effects of climate change, including extreme events and slow onset events, in vulnerable developing countries (Decision 2/CP.19). The paper performs a Critical Discourse Analysis (CDA) of COP decision 2/CP.19 in order to reconstruct developing and developed countries' positions on L&D and reflect on how the Warsaw mechanism could be implemented. The analysis builds on Fairclough's (1992) three-dimensional model for CDA, and makes use of a wide range of materials including previous COP decisions, High Level Segment statements and Parties submissions to COP 19, press releases and other relevant documents. The analysis highlights the lack of a common understanding and representation of L&D by developed and developing countries, with this fact ultimately hampering the possibility to define specific tools to address the issue within the mechanism. The difficulty to come to a shared meaning on L&D is due to its connection to other controversial discourses under the UNFCCC, including that of compensation for climate change impacts. As the concept of compensation pertains to the field of international law, the paper explores the appropriateness of the notions of State Responsibility for wrongful acts and State liability for acts not prohibited by international law to effectively deal with L&D. The paper concludes by discussing some strategic options for developing countries to advance the L&D discourse within international talks.
***
Suggested citation: Elisa Calliari,Loss and damage: a critical discourse analysis of Parties' positions in climate change negotiations, Journal of Risk Research Vol. 0 , Iss. 0,0 http://dx.doi.org/10.1080/13669877.2016.1240706