Like Oil and Water or Chocolate and Peanut Butter? Ethnic Diversity and Social Participation of Young People in England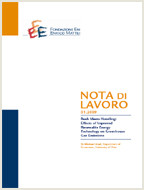 Autori
Elena Fumagalli, Laura Fumagalli
Parole chiave:
Social Participation, Fractionalization, Segregation
Publisher
Economy and Society
Editor
Gianmarco I.P. Ottaviano
The paper studies the impact of ethnic diversity on social participation of young people. We first propose a theoretical model in which the agents choose between structured and unstructured social activities by taking into account the ethnic composition of the groups they join. We test our predictions using English census data together with the `Longitudinal Survey of Young People in England' (LSYPE) and we find that ethnic segregation increases the probability of hanging around near home, while ethnic fractionalization decreases it. Furthermore, more structured activities are not affected by ethnic fractionalization. Finally, we use an IV strategy based on both historical and geographical data to correct for endogenous sorting into neighborhoods. The results we get are even stronger than those obtained where the ethnic composition of the neighborhood is taken as exogenous.