Iran after the (Potential) Nuclear Deal: What's Next for the Country's Natural Gas Market?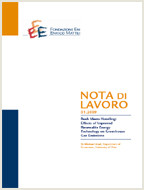 Autori
Simone Tagliapietra
Parole chiave:
Iran gas market, International gas markets, World energy outlook, Nuclear talks
Publisher
Energy: Resources and Markets
Iran is the perennial "elephant in the room" of international gas trade. The country could well become, one day, a major game changer of international gas markets but today its potential still remains fundamentally untapped due to a number of geopolitical and commercial reasons. Iran owns the first largest proven gas reserves in the world, but since 1997 it is basically a net-importer of gas. This paradoxical situation is due to a number of internal and external factors, which will be widely discussed in the paper. However, the main cause of the current under-exploitation of Iran's gas resources is certainly linked to the international isolation of the country due to the well-known international dispute over its nuclear program. For this reason, if the positive outcome of the recent nuclear talks turn into a complete nuclear deal, great opportunities will likely open up in Iran also with regard to the gas market. The aim of this paper is to analyze the country's gas outlook in the aftermath of a potential nuclear deal, looking at the potential production trends, at the potential export options, but also at the political and commercial barriers that such a development will likely have to face. In fact, a full resolution of the nuclear issue will unlikely automatically change the Iranian gas market in the short term, as a number of commercial issues will continue to remain on the table. In other words, the "elephant" will need a bit of time to move. However, it is sure that its movement will ultimately have a profound and long-lasting impact on international gas markets.
***
Suggested citation: Tagliapietra, S., (2014), 'Iran after the (Potential) Nuclear Deal: What's Next for the Country's Natural Gas Market?', Nota di Lavoro 31.2014, Milan, Italy: Fondazione Eni Enrico Mattei.