Informed trading in oil-futures market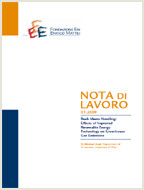 Autori
Olivier Rousse (Université Grenoble Alpes); Benoit Sévi (Université de Nantes)
Parole chiave:
Insider Trading, WTI Crude Oil Futures, Intraday Data, Inventory Release
Publisher
Energy Scenarios and Policy
The weekly release of the U.S. inventory level by the DOE-EIA is known as the market mover in the U.S. oil futures market and to be a significant piece of information for all world oil markets in which the WTI is a price benchmark. We uncover suspicious trading patterns in the WTI futures markets in days when the inventory level is released that are higher than economists' forecasts: there are significantly more orders initiated by buyers in the two hours preceding the official release of the inventory level. We also show a clear drop in the average price of -0.25% ahead of the news release. This is consistent with informed trading. We also provide evidence of an asymmetric response of the oil price to the news, and highlight an over-reaction that is partly compensated in the hours following the announcement.
***
Suggested citation: Rousse, O., B. Sévi, (2016), 'Informed Trading in Oil-Futures Market', Nota di Lavoro 70.2016, Milan, Italy: Fondazione Eni Enrico Mattei