How to Design a Border Adjustment for the European Union Emissions Trading System?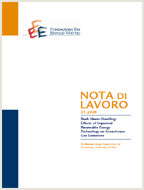 Autori
Stéphanie Monjon, Philippe Quirion
Parole chiave:
Carbon Leakage, Border Adjustment, Border Tax Adjustment, EU ETS, Competitiveness
Publisher
Climate Change and Sustainable Development
Border adjustments are currently discussed to limit the possible adverse impact of climate policies on competitiveness and carbon leakage. We discuss the main choices that will have to be made if the European Union implements such a system alongside with the EU ETS. Although more analysis is required on some issues, on others some design options seem clearly preferable to others. First, the import adjustment should be a requirement to surrender allowances rather than a tax. Second, the general rule to determine the amount of allowances per ton imported should be the product-specific benchmarks that the European Commission is currently elaborating for a different purpose (i.e. to determine the amount of free allowances). Third, this obligation should apply when the exported product is registered at the EU border, and not after the end of the year as is the case for domestic emitters. Fourth, the export adjustment should take the form of a rebate on the amount of allowances a domestic emitter has to surrender. Five, this rebate should equal the above-mentioned product-specific benchmarks, not the emissions of the particular exporting plant or firm. Finally, the adjustment does not have to apply to consumer products but mostly to basic products.