Extending the EU Commission's Proposal for a Reform of the EU Emissions Trading System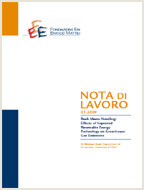 Autori
Stefan P. Schleicher (Wegener Center for Climate and Global Change – University of Graz); Angela Köppl (Austrian Institute of Economic Research); Alexander Zeitlberger (Wegener Center for Climate and Global Change – University of Graz)
Parole chiave:
EU Emissions Trading System, Reform Options, EU Commission's Proposal
Publisher
Climate Change: Economic Impacts and Adaptation
Pursuing an evidence based approach we summarize the key elements of the Eu-ropean Commission's proposal of July 2015 for a reform of the EU Emissions Trading System and offer facts about the current state of EU ETS that underline the needs for such a reform. We supply key data for understanding the current state of EU ETS and report in particular the share of freely allocated allowances in emissions for the various sectors since the start of EU ETS in 2005. This is the most relevant parameter for evaluating the stringency and cost impacts of the EU ETS on sectors and installations. We provide propositions for enhancing the allocation procedure of both free and auctioned allowances, the fundamental ele-ment in the cap and trade design of this system. We link this procedure closely to the relevant suggestions of the Commission proposal and offer extensions that can make in particular the allocation of free allowances more targeted and effective. We indicate how the impacts of free allowances can be calculated both for sectors and installations and conclude that these reform steps could reduce the administrative burden of the system.
***
Suggested citation: Schleicher, S., A. Köppl, A. Zeitlberger (2016), ' Extending the EU Commission's proposal-for a reform of the EU Emissions Trading System', Nota di Lavoro 27.2016, Milan, Italy: Fondazione Eni Enrico Mattei