European Forests and Carbon Sequestration Services: An Economic Assessment of Climate Change Impacts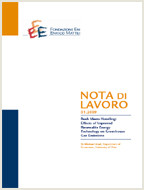 Autori
Helen Ding, Paulo A.L.D. Nunes, Sonja Teelucksingh
Parole chiave:
Economic Valuation, Forest Ecosystem, Carbon Sequestration, Climate Change Impacts
Publisher
Climate Change and Sustainable Development
Editor
Sustainable Development
This paper reports an original economic valuation of the impact of climate change on the provision of forest regulating services in Europe. To the authors' knowledge the current paper represents the first systematic attempt to estimate human well-being losses with respect to changes in biodiversity and forest regulating services that are directly driven by climate change. First, selected 34 European countries are grouped by their latitude intervals to capture the differentiated regional effects of forests in response to climate change. Moreover, the future trends of forest areas and stocked carbon in 2050 are projected through the construction and simulation of global circulation models such as HADMC3 following four different future developing paths described by the four IPCC scenarios. Finally, the valuation exercise is anchored in an ecosystem service based approach, involving the use of general circulation models and integrated assessment models. Our findings address two dimensions in the evaluation of climate impacts on European forests: Firstly, future projections yield different states of the world depending upon the IPCC scenario adopted. Secondly, spatial issues matter in an assessment of the distributional impacts of climate change, as these impacts are not distributed in a uniform way across the European countries under consideration.