Equilibri 2008.01 – Corpo senza limiti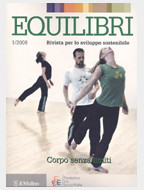 Il corpo manifesta la sua imperfezione attraverso la malattia, gli eventuali infortuni, il dolore, l'indebolimento progressivo dovuto all'invecchiamento. I progressi tecnologici e scientifici compiuti nel settore biomedico in questi ultimi vent'anni hanno enormemente migliorato le capacità fisiche e cognitive e le condizioni di vita degli abitanti dei paesi ricchi e sviluppati. Questo numero della rivista si interroga sul sogno dell'uomo di un corpo sempre più perfetto.
Bodies express their imperfection through disease, accidents, pain and the progressive weakening induced by old age. Over the last two decades the acceleration in the pace of technological and scientific progress in the biomedical field has markedly improved the living condition of the populations living in the rich and highly developed countries. This issue of «Equilibri» analyzes man's dream of an increasingly perfect body.