Economic Implications of EU Mitigation Policies: Domestic and International Effects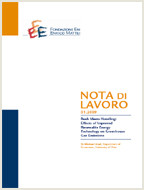 Autori
Francesco Bosello (Fondazione Eni Enrico Mattei, CMCC, University of Milan); Marinella Davide (Fondazione Eni Enrico Mattei, CMCC, University of Venice); Isabella Alloisio (Fondazione Eni Enrico Mattei, CMCC)
Codice JEL
F64, H23, O44, O52, Q54, R11
Parole chiave:
Climate Change, Climate Policy, Mitigation, Economic Impacts, GDP, Competitiveness
Publisher
Climate Change: Economic Impacts and Adaptation
The EU has a consolidated climate and energy regulation: it played a pioneering role by adopting a wide range of climate change policies and establishing the first regional Emission Trading Scheme (EU ETS). These policies, however, raise several concerns regarding both their environmental effectiveness and their potentially negative effect on the economy, especially in terms of growth and competitiveness. The paper reviews the European experience in order to understand if these concerns are supported by quantitative evidence. It thus focuses on key economic indicators, such as costs, competitiveness and carbon leakage as assessed by quantitative ex-ante and ex-post analyses. A dedicated section, extends the investigation to the potential extra-EU spillover of the EU mitigation policy with a particular attention to developing countries. The objective of the paper is to highlight both the limits and the opportunities of the EU regulatory framework in order to offer policy insights to emerging and developing countries that are on the way to implement climate change measures. Overall, the European experience shows that the worries about the costs and competitiveness losses induced by climate regulation are usually overestimated, especially in the long term. In addition, a tightening climate policy regime in the EU might in fact negatively impact developing countries via deteriorated trade relations. Nonetheless it tends to facilitate a resource relocation that if well governed could be beneficial to those countries where the poor are mainly involved in rural activities.
***
Suggested citation: Bosello, F., M. Davide, I. Alloisio, (2016), 'Economic Implications of EU Mitigation Policies: Domestic and International Effects', Nota di Lavoro 34.2016, Milan, Italy: Fondazione Eni Enrico Mattei