Eastern Europe and the former Soviet Union since the fall of the Berlin Wall: Review of the Changes in the Environment and Natural Resources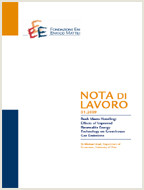 Autori
Anil Markandya, Wan-Jung Chou
Parole chiave:
Eastern Europe, Environmental Record, Public Health
Publisher
Climate Change and Sustainable Development
This paper reviews the environmental record of the transition countries of Eastern Europe and Central Asia since the fall of the Berlin Wall, with a focus on areas of key concern to public policy at the present time. With the impacts of environment on public health being given the highest priority, we examined several associated health indicators at the national level, as well as looking at important environmental issues at the local level. In this respect, we focus on environmental problems related to air and water quality, land contamination, and solid waste management. Despite showing a highly differentiated performance across the region, the results suggest that inadequate environmental management seen in several of the transition countries in the past 20 years has put people's health and livelihood under huge threats. Moreover, this paper looks at the development of policy responses and resources, i.e. environmental expenditures, in these countries, during the process of transiting from centrally planned economies to market-based one. Similarly, we identify various degrees of progress across the region. The findings reinforce the need for better coherence between national environmental expenditure and international environmental assistance, as well as the actual enforcement of national regulations and international agreements in those non-EU transition countries.