Community-based Adaptation: Lessons from the Development Marketplace 2009 on Adaptation to Climate Change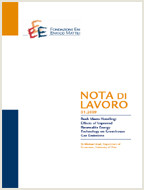 Autori
Rasmus Heltberg, Habiba Gitay, Radhika Prabhu
Parole chiave:
Community-based Adaptation, Development Marketplace, Adaptation, Climate Change
Publisher
Climate Change and Sustainable Development
The Development Marketplace 2009 focused on adaptation to climate change. This paper identifies lessons from the Marketplace and assesses their implications for adaptation support. Our findings are based on: statistical tabulation of all proposals; in-depth qualitative and quantitative analysis of the 346 semi-finalists; and interviews with finalists and assessors. Proposals were fuelled by deep concerns that ongoing climate change and its impacts undermine development and exacerbate poverty, migration and food insecurity. Proposals addressed both local poverty and climate change challenges, and offered a wide range of approaches to render local development more resilient to current climate variability. Therefore, support to community-based adaptation should: exploit its strong local grounding and synergies with development; help connect local initiatives to higher levels; and use complementary approaches to address policy issues.