Climate Change, Water Scarcity in Agriculture and the Economy-Wide Impacts in a CGE Framework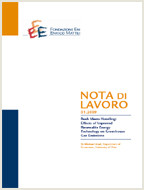 Autori
Roberto Ponce (Universidad del Desarrollo); Ramiro Parrado (Fondazione Eni Enrico Mattei, Centro Euro-Mediterraneo sui Cambiamenti Climatici); Alejandra Stehr (Universidad de Concepción); Francesco Bosello (Fondazione Eni Enrico Mattei, CMCC, University of Milan)
Codice JEL
C68, Q54, Q15, Q25
Parole chiave:
CGE Models, Climate Change, Agriculture, Irrigation, Water Resources
Publisher
Climate Change: Economic Impacts and Adaptation
This paper analyzes the economic impacts of changes in water availability due to climate change. We develop a new modeling approach as an alternative to include water as a production factor within a global CGE model. We tailor the structure of the ICES model to characterize the key features of the world economy with a detailed representation of the agricultural sector. In order to reach this objective, a new database has been built to explicitly consider water endowments, precipitation changes, and unitary irrigation costs. Results suggest different economic consequences of climate change depending on the specific region. Impacts are related to change in crop production, endowment demands, and international trade.
***
Suggested citation: Ponce, R., R. Parrado, A. Stehr, F. Bosello, (2016), 'Climate Change, Water Scarcity in Agriculture and the Economy-Wide Impacts in a CGE Framework', Nota di Lavoro 79.2016, Milan, Italy: Fondazione Eni Enrico Mattei