Changes in Beliefs and Perceptions about the Natural Environment in the Forest-Savanna Transitional Zone of Ghana: The Influence of Religion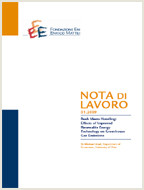 Autori
Paul Sarfo-Mensah, William Oduro
Parole chiave:
Tumi, Sacred Groves, Forest-Savanna Transition, Sustainability, Traditional, Christianity, Islam
Publisher
Economy and Society
Editor
Gianmarco I.P. Ottaviano
The potential of traditional natural resources management for biodiversity conservation and the improvement of sustainable rural livelihoods is no longer in doubt. In sub-Saharan Africa, extensive habitat destruction, degradation, and severe depletion of wildlife, which have seriously reduced biodiversity and undermined the livelihoods of many people in rural communities, have been attributed mainly to the erosion of traditional strategies for natural resources management. In Ghana, recent studies point to an increasing disregard for traditional rules and regulations, beliefs and practices that are associated with natural resources management. Traditional natural resources management in many typically indigenous communities in Ghana derives from changes in the perceptions and attitudes of local people towards tumi, the traditional belief in super natural power suffused in nature by Onyame, the Supreme Creator Deity. However, this is closely entwined with ecological, demographic and economic factors. Whilst these factors have driven the need to over-exploit natural resources, a situation which threatens the sustainability of community forests including sacred groves, religion has been used to justify such actions. This paper explores changes in tumi and the sustainability of sacred groves in the forest-savanna transitional zone in Ghana. It would confirm that changes in traditional animist beliefs, such as tumi, which informs the worldview of local people and underlies traditional natural resources management, is mainly due to the advances made by Christianity and Islam.