Bottom-Up Strategic Linking of Carbon Markets: Which Climate Coalitions Would Farsighted Players Form?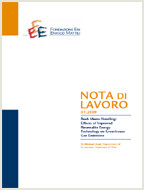 Parole chiave:
Climate Policy, International Environmental Agreements, Cap and Trade, Coalition Formation, Farsightedness
Publisher
Climate Change and Sustainable Development
We present typical scenarios and general insights from a novel dynamic model of farsighted climate coalition formation involving market linkage and cap coordination, using a simple analytical model of the underlying cost-benefit structure. In our model, the six major emitters of CO2 can link domestic cap-and-trade systems to form one or several international carbon markets, and can either choose their emissions caps non-cooperatively or form a hierarchy of cap-coordinating coalitions inside each market. Based on individual and collective rationality and an assumed distribution of bargaining power, we derive scenarios of such a climate coalition formation process which show that a first-best state with a coordinated global carbon market might well emerge bottom-up, and underline the importance of coordinating caps immediately when linking carbon markets. Surprisingly, the process tends to involve less uncertainty when agreements can be terminated unanimously or unilaterally, depending on the level of farsightedness.