Are Renewables Profitable in 2030? A Comparison between Wind and Solar across Europe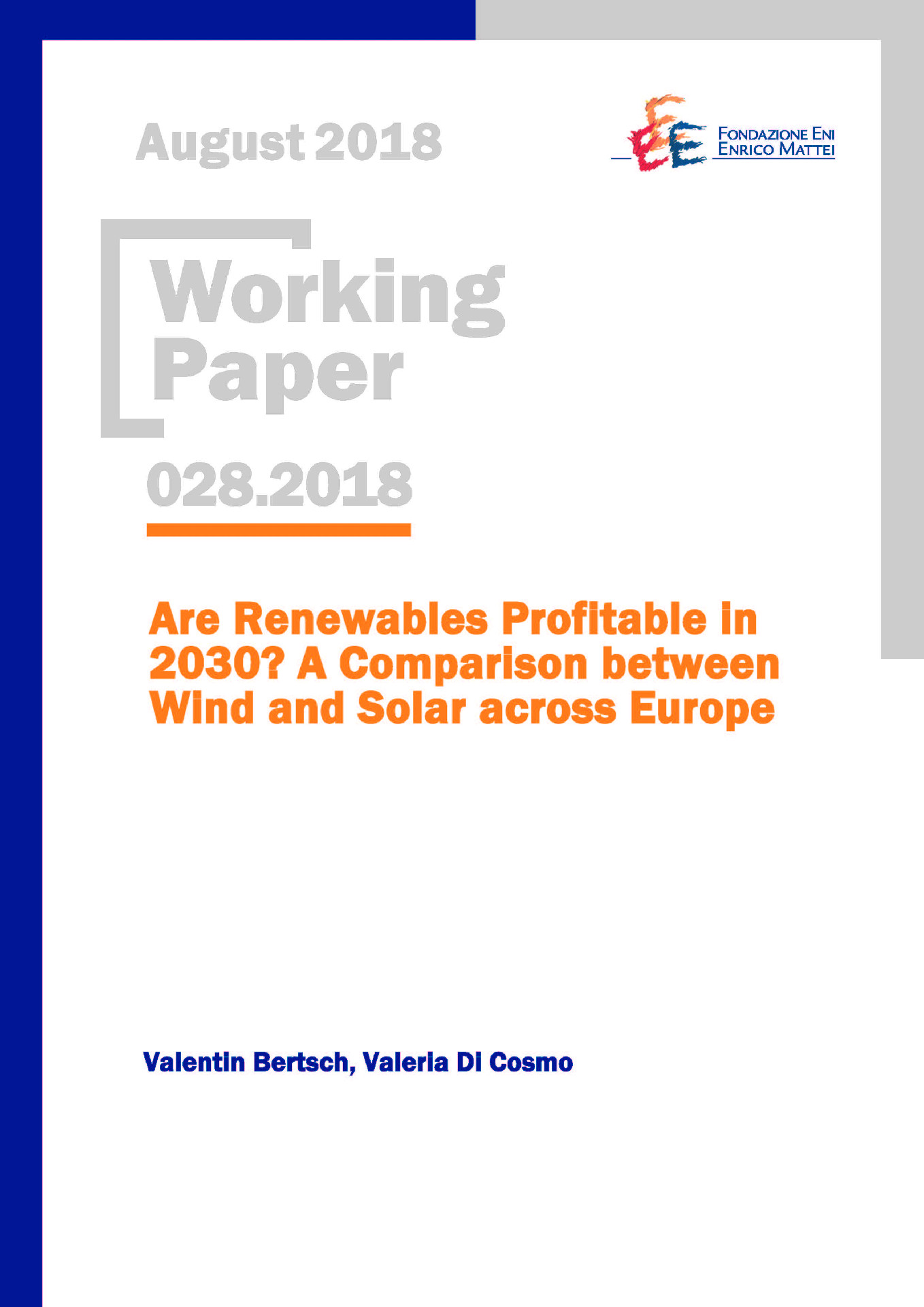 Autori
Valentin Bertsch (Economic and Social Research Institute ESRI, Trinity College Dublin, German Aerospace Center, University of Stuttgart); Valeria Di Cosmo (Fondazione Enrico Mattei, Milan, Economic and Social Research Institute ESRI)
Parole chiave:
Renewable Energy Targets, Renewable Electricity Generation, RES-E Target, EU Electricity Market, Profitability
Publisher
Energy Scenarios and Policy
The European Union has set ambitious targets for emission reduction and the penetration of renewable energy, including the electricity generation sector as one of the major emitters of CO2. After a period of subsidy-driven investments, the costs of renewables decreased strongly making investments more attractive. Since European countries differ strongly in terms of natural resources, we analyse the profitability of wind onshore and offshore and solar PV across Europe to determine where it is optimal to invest in the future and to understand which factors drive the profitability of the investments. We use a power systems model to simulate the whole European electricity market in 2030. Using the renewable revenues determined by the model, we calculate the internal rate of return to analyse how profitable each technology is in each country. We find that investments in the considered technologies are not homogeneously profitable across Europe. This suggests that cooperation between European countries can be expected to achieve the overall targets at lower costs than nationally-driven approaches. We also find that in many countries, wind onshore and solar PV are profitable by 2030 in absence of any financial support. Wind offshore does not seem to be profitable without financial support.
***
Suggested citation: Bertsch, V., V. Di Cosmo (2018), 'Are Renewables Profitable in 2030? A Comparison between Wind and Solar across Europe', Nota di Lavoro 28.2018, Milano, Italy: Fondazione Eni Enrico Mattei.