FEEM Interview | Prof. Robert S. Pindyck, MIT | New book: "Climate Future. Averting and Adapting to Climate Change"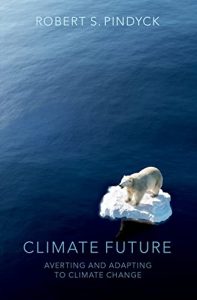 The Book
In his work Prof. Pindyck offers clear arguments on how climate change works and what uncertainties the phenomenon entails. The book shows that what will be done is far less than what should be done to avert climate change and explains why adaptation to climate change is globally crucial and why we should invest now in developing new adaptation solutions to climate change.
From the back cover
Whatever climate policies are adopted, there will be a great deal of uncertainty over what will happen as a result. In Climate Future, Robert Pindyck, an authority on the economics of climate change and global catastrophes, explains what we know and what we don't know about the extent of climate change and its impact, why there is so much uncertainty, and what it means for climate policy. This book shows that given the economic and political realities, it is simply not realistic to expect emission reductions needed to avert substantial global warming. Pindyck argues that investments in adaptation-developing new hybrid crops, discouraging building in flood-prone or wildfire-prone areas, building sea walls and dikes, and geoengineering-are needed to insure against catastrophic climate change events. We should invest now in adaptation, and Pindyck shows how that can be done.
Find out more about the book at the following pages:
Oxford University Press
FEEM Library

The Interview
In this interview conducted by Fondazione Eni Enrico Mattei (FEEM), Prof. Robert S. Pindyck, MIT Sloan School of Management, explores the main topics of his latest book "Climate Future. Preventing and Adapting to Climate Change" (Oxford University Press, 2022) with Prof. Sergio Vergalli, Modelling the Energy Transition (MET) FEEM Research Program Director.
– This interview is part of the FEEM initiative «Free Thoughts on the Future». Further contents will be published soon on the FEEM website.