The Rise of Turkey and the New Mediterranean. Challenges and Opportunities for Energy Cooperation in a Region in Transition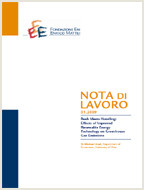 Authors
Simone Tagliapietra
Keywords:
Turkey, Mediterranean, EU Security of Supply, Energy geopolitics
Publisher
Energy: Resources and Markets
This paper, presenting a wide range of issues related to the role of Turkey in the Mediterranean energy context, aims to provide a comprehensive framework of understanding of the growing strategic relevance of Turkey for both the European Union and the overall Euro-Mediterranean region. In particular, the paper focuses on the EU-Turkey energy relations and outlines the crucial role of natural gas in enhancing energy cooperation between the two players. In 2010 about 80% of EU gas imports derived from only three suppliers: Russian Federation, Norway and Algeria. This heavy dependence on such a few suppliers stimulated the European Commission to make the concept of diversification a cornerstone of its energy policy and to launch the concept of the Southern Gas Corridor, an initiative aimed to develop a natural gas transit corridor from Caspian and Middle Eastern gas-rich regions to Europe, in order to ease the dependency on the natural gas imported from the Russian Federation. An initiative that could shift the "centre of gravity" of the regional gas transit from the north to the south of the Black Sea, allowing Turkey to become a key transit country in the future European gas market; a pivotal element in the European gas security of supply architecture. Furthermore, the paper also considers the enormous renewable energy potential of Southern and Eastern Mediterranean Countries, to which Turkey could greatly contribute in terms of technology transfer and manufacturing know-how. Turkey's involvement in the Union for the Mediterranean offers a great opportunity for energy cooperation both between the EU and Turkey and within the overall Euro-Mediterranean region. Such large-scale renewable energy projects could greatly contribute to the economic development of the overall Mediterranean region, and also to its social and political stability. Considering the lack of a wide and comprehensive EU-Turkey energy cooperation scheme, the paper proposes a series of policy priorities pointed to enhance this bilateral relationship and also the wider Euro-Mediterranean integration process.