Returns to Migration, Education, and Externalities in the European Union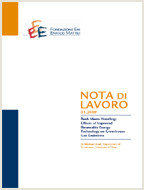 Authors
Andrés Rodríguez-Pose, Vassilis Tselios
Keywords:
Individual Earnings, Migration, Educational Attainment, Externalities, Household, Regions, Europe
Publisher
Economy and Society
Editor
Gianmarco I.P. Ottaviano
Relatively little attention has been paid to the role that externalities play in determining the pecuniary returns to migration. This paper addresses this gap, using microeconomic data for more than 100,000 individuals living in the European Union (EU) for the period 1994-2001 in order to analyse whether the individual economic returns to education vary between migrants and nonmigrants and whether any observed differences in earnings between migrants and locals are affected by household and/or geographical (regional and interregional) externalities. The results point out that while education is a fundamental determinant of earnings., European labour markets – contrary to expectations – do not discriminate in the returns to education between migrants and non-migrants. The paper also finds that household, regional, and interregional externalities influence the economic returns to education, but that they do so in a similar way for local, intranational, and supra-national migrants. The results are robust to the introduction of a large number of individual, household, and regional controls.