Equilibri 2009.01 – Dentro la crisi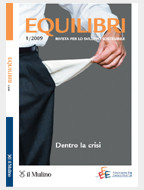 Ci troviamo dentro una delle più gravi crisi economiche globali dell'ultimo secolo (dopo quelle di origine «locale» in Russia, Brasile, Messico…) che sta mettendo in seria discussione i nostri paradigmi di sviluppo consolidati. Soprattutto l'attuale crisi è la prima «da globalizzazione». Grazie all'aumentare degli scambi avevamo visto crescere le economie ma anche l'interdipendenza e interconnessione mondiale fra le scelte individuali, i mercati e le economie. Abbiamo creduto nella capacità di autoregolazione dei mercati e questa fede non ci ha fatto cogliere la gravità dei segnali che annunciavano l'incipiente crisi finanziaria e le sue drammatiche conseguenze sull'economia reale.
Il dossier di questo numero è dedicato alla crisi e continueremo ad occuparcene pubblicando degli interventi originali in un'apposita sezione.
This is one of the worst economic crises of the last century (after those originated «locally» in Russia, Brazil, Mexico…). It is our first «global» crash, and it is threatening our established development paradigms. Exchanges have grown worldwide, and individual choices, markets and economies have become increasingly interconnected. We had boundless faith in the markets' self-regulatory capacity, and we were unable to detect the early signs of the downturn and its dramatic impact on the real economy.
The dossier of this issue is focused on the financial crisis, and we will be publishing original contributions on this subject in a dedicated section in future issues.