Equilibri 2006.02 – La manutenzione della politica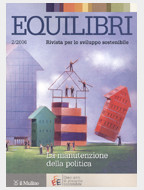 Questo numero è stato preparato prima del lungo periodo elettorale che ha visto i cittadini del nostro paese impegnati, a distanza di pochi mesi, in tre importanti appuntamenti: elezioni politiche nazionali, elezioni amministrative comunali, referendum costituzionale. Nello scegliere il tema generale del numero, siamo partiti dalla convinzione che è compito di ogni cittadino occuparsi della manutenzione della politica, perché questo altro non è che occuparsi della manutenzione della democrazia.
This issue was prepared before the long electoral period, during which the citizens of our country have been called upon to vote on three important occasions at a few months' distance: national political elections, local administrative elections, constitutional referendum. In selecting the general theme of this issue, we based ourselves on the firm belief that it is every citizen's duty to look after the maintenance of politics, because this is, after all, the maintenance of democracy.