An Empirical Analysis of the Public Spending Decomposition on Organized Crime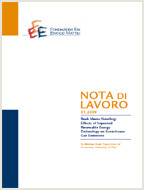 Authors
Maria Berrittella (Università degli Studi di Palermo – Dipartimento di Scienze Economiche, Aziendali e Statistiche); Carmelo Provenzano (Facoltà di Scienze Economiche e Giuridiche – Università Kore di Enna)
Keywords:
Government Efficiency, Organized Crime, Public Spending
Publisher
Economic Theory and Applications
The aim of this paper is to investigate, empirically, what components of the public spending imply a decreasing effect on the organized crime and what components create opportunities for the organized crime, discussing also the role of government efficiency. The findings show a strikingly consistent pattern. Organized crime mainly operates in the distribution of the public spending for health, housing and community amenities. There is a decreasing effect on organized crime of the public expenditure devoted to education and to create morality values, such as the expenditure for recreation, culture and religion. Finally, government efficiency in public spending is beneficial for reducing the opportunities of the organized crime.
***
Suggested citation: Berrittella, M., C. Provenzano, (2016),  'An Empirical Analysis of the Public Spending Decomposition on Organized Crime', Nota di Lavoro 1.2016, Milan, Italy: Fondazione Eni Enrico Mattei