Round Table | Free Thoughts on the Future
Location
University of Brescia and GoToWebinar

21 July, 2022. 3 PM - 5:30 PM (CEST), UTC +2
Speakers

Welcome address
Prof. Sergio Vergalli – University of Brescia, Department of Economics and Management, Fondazione Eni Enrico Mattei, Modelling the Energy Transition Research Area.
Prof. Francesco Castelli – Deputy Rector and Professor of Infectious Diseases, University of Brescia.
First discussion panel (h 3pm – 4pm)
Prof. Paul Ekins – Professor of Resources and Environment Policy, University College London.
Maurizio Fusato – CEO, Presider SpA, Feralpi Group.
Prof. Phoebe Koundouri – EAERE President, Professor at the Athens University of Economics and Business, Professor at Denmark Technical University
Alessandro Varesio – CFO, Acque Bresciane.
Second discussion panel (h 4pm – 5pm)
Roberto De Miranda – Executive Committee Member, ORI Martin.
Prof. Claudia Kemfert – Professor and Head of the department Energy, Transportation, Environment at the German Institute of Economic Research (DIW Berlin)
Prof. Jeffrey Sachs – Director of the Center for Sustainable Development, Columbia University and President of UN SDSN.
Prof. Robert Stavins – Professor of Energy and Economic Development, Harvard University.
Paolo Streparava – CEO, Streparava SpA.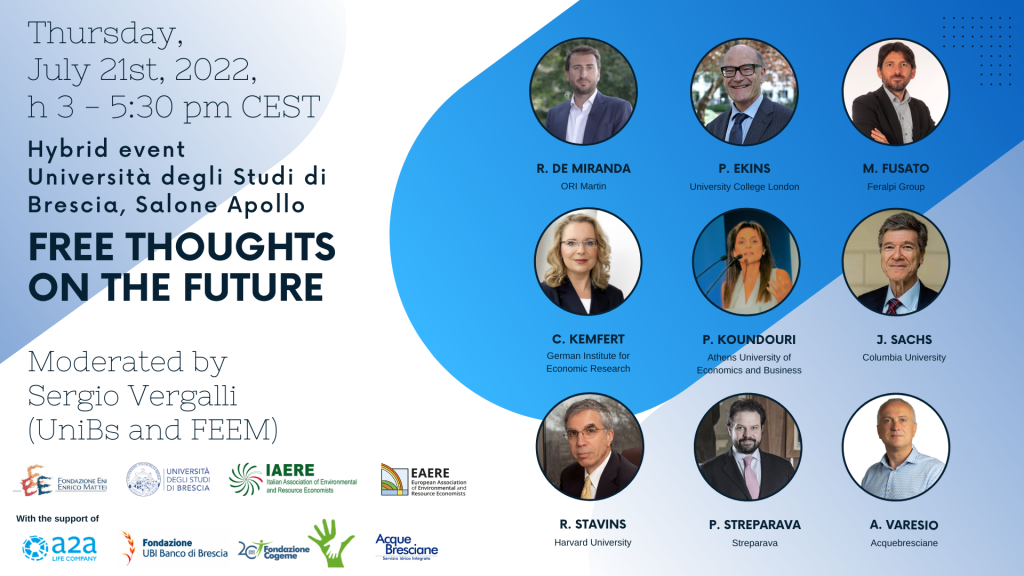 In the context of the EAERE Webinars on Science-Policy-Business Interface, on the 21st of July, 2022, University of Brescia and Fondazione Eni Enrico Mattei will host the event "Free thoughts on the future". A double panel of international speakers from the academia and businesses will discuss their expectations and hopes on the future evolution of the economy, ranging from issues related to sustainability, energy transition and environmental and climate policies, with the aim to unify their visions in common actions and possible solutions. The event will be moderated by Professor Sergio Vergalli (University of Brescia and Fondazione Eni Enrico Mattei).