Equilibri 2009.03 – Un pianeta malato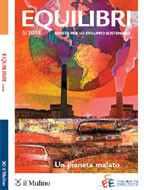 Mentre questo numero di Equilibri va in stampa, l'attenzione degli abitanti del nostro pianeta malato, dai più ricchi ai più poveri, è rivolta alla Conferenza mondiale sul clima di Copenhagen (COP15), ma trovare un accordo globale nella lotta contro il cambiamento climatico è difficile. La FEEM è stata nei giorni scorsi a Copenhagen presentando i suoi numeri, modelli e proposte concrete per favorire accordi ragionevoli sul clima. Il lettore troverà in questo numero spunti per farsi un'opinione informata e per rendersi conto che questa sfida globale è anche individuale.
While this issue of Equilibri is in print the inhabitants of our sick planet, rich and poor, have focused their attention on the COP15 United Nations Climate Change Conference in Copenhagen, but reaching a global agreement in the fight against climate change is no easy task. FEEM was in Copenhagen with its numbers and models, contributing with concrete proposals toward a fair climate agreement. In this issue our readers will find a starting point to form an informed opinion and will realize that the climate challenge is not only global, but individual.