Equilibri 2008.03 – Capitalismo di stato 2.0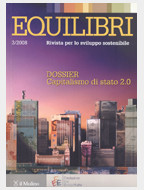 Nel mese di giugno del 2008 la Fondazione Eni Enrico Mattei ha organizzato una conferenza sulla fine delle privatizzazioni. Il programma prevedeva una tavola rotonda con numerosi esperti. Il dibattito si è focalizzato sui cambiamenti nei rapporti tra Stato e Mercato nell'ambito di uno scenario in rapido cambiamento minacciato dalla crisi finanziaria mondiale. Nel dossier di questo numero, dedicato al capitalismo di stato, pubblichiamo alcuni interventi degli esperti sui fondi sovrani e sul capitalismo di stato. Seguono due articoli dedicati ai fondi sovrani, il primo ai fondi sovrani dei paesi del Golfo e il loro ruolo nei mercati europei e americani, e il secondo dedicato a un fondo sovrano atipico, Temasek.
In June 2008 Fondazione Eni Enrico Mattei organized a conference on the end of privatizations. The program included a round table with a number of experts. The debate focused on the changes in the relationship between State and Market within a rapidly changing scenario threatened by a worldwide financial crisis. In the dossier of this issue we have published extracts of the round table debate including references to sovereign wealth funds and State capitalism. Two articles focused on sovereign wealth funds follow, the first discusses sovereign wealth funds in the countries of the Gulf and their role in the European and American markets, the second discusses an atypical sovereign fund: Temasek.