Equilibri 2007.01 – Cina: capitalismo rosso, ambiente nero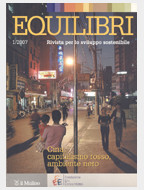 Da un po' di tempo i temi ambientali alimentano, quasi ogni giorno, la stampa cinese. Il fatto che sedici delle venti città più inquinate del mondo siano cinesi, che lo «stato di salute» di gran parte dei corsi d'acqua sia prossimo al collasso, che la biodiversità tenda a ridursi, non può che preoccupare i cittadini e i governanti di questo paese. A ciò si aggiunge il fatto che alla Cina spetta il primato della produzione di CO2, seconda solo agli Stati Uniti che, dalle proiezioni del rapporto IEA (World Energy Outkook), supererà entro il 2010. Questo numero di «Equilibri» parlerà della questione ambientale cinese, ma anche della sua economia, cultura e società.
The environment is an increasingly debated issue in the Chinese press. Sixteen of the twenty most polluted cities worldwide are Chinese, the «state of health» of its waterways is on the verge of collapse and biodiversity loss is a concern for the Chinese government and people. China is the world's greatest emitter of CO2 after the United States and according to the IEA report (World Energy Outlook), China will become the lead emitter in 2010. This issue of «Equilibri» will discuss China's environmental problem, but also its economy, culture and society.